Feel free to call at +91-9986149749 for any consultation or email us at ceo@leapsmanagement.com
Here is what one of the biggest name in NLP and Cognitive Behavioral Psychology has to say about Romeo.  "What I look for in the NLP / Neuro-Semantic Trainers that we produce is a strength of character that cares about people and the quality of their trainings and I see that in Romeo Haokip. For India — it is very good that Romeo is there presenting trainings that support people and organizations unleashing their potentials."  – L.Michael Hall Ph.D-Author of 50 plus NLP books, Executive Director of Meta Coaching System and Neuro Semantics.
A NEURO SEMANTICS NLP PRACTITIONER CERTIFICATION FROM ISNS & MCF APPROVED COURSE
WHY NLP?
NLP is considered the number 1 tool of choice among the top celebrity,business and life coaches around the world. It is well known that many top politicians including Bill Clinton, Tony Blair, and Barack Obama are trained in NLP. Celebrities that are known to use these skills are Oprah Winfrey, Sophie Dahl, Lily Allen, Gerri Halliwell and Jimmy Carr. It is said that Robbie Williams use a very simple NLP technique before going stage. All of these people use the skills of NLP to help them succeed in their profession.
What are Established Magazines and other opinion leaders saying about NLP:
"NLP may be the most powerful vehicle for change in existence…" –Modern Psychology.

"NLP has untapped potential for treating individual problems….It has metamorphosed into an all-purpose self-improvement program and technology." –Time Magazine"
WHY NEURO SEMANTICS?
Neuro Semantics also known as the science of success as quoted in the Wall Street Journal, is considered as the latest advancement in the field of NLP and also known as the NLP 2.0 version. Widely practiced by coaches and trainers in 40 countries around the world, as a Self-Actualization and Wealth Success tool.
Neuro Semantics or Meta NLP certification has become the most credible benchmark for all NLP certifications for its extension of models and newer development beyond the 1980s in the field of NLP .
WHY LEAPS MANAGEMENT?
We are the only training center in India that provides regular Meta NLP certifications. Also we are perhaps the only one that tries to maintain the sanctity and purity of NLP in India by not mixing it with any new fads. We offer the cheapest quality NLP training in India. People who've paid Rs.50,000-69000 to join other NLP certifications come to us again to complete their understanding of NLP at an affordable price. Many of our Meta NLP graduates are past Practitioners and Master Practitioners from some of the biggest names that have taught NLP in India, yet they come to us. The highlight is the Trainer Romeo Haokip, who is one of the finest Trainer in India who have wowed Toastmasters with his sense of humility, transparency and mastery over the subject of NS-NLP, personally certified by Michael Hall and 6 other International NS-NLP Master Trainer under one of the most stringent assessment in the world.
AN INTERNATIONALLY APPROVED CERTIFICATION FROM THE INTERNATIONAL SOCIETY OF NEURO SEMANTICS:
The 7 days Meta NLP Practitioner will certify you as
NLP Practitioner or Meta NLP Practitioner

You are assumed to have cleared Module 1 of the Meta Coaching System from MCF-USA.
7 days Internationally Accredited Meta NLP Practitioner Certification from ISNS, Top NLP Certification Provider in the World. It usually is 8 days, and so we will start early at 9AM and end at 6PM, to gain 7 extra hours to make it 8 days' worth of training.
Teachers, NGOs and people with Social Work Education can send us their scanned copy of their educational background or experience and linkedin profile for special discounts after the early bird expiry.
The International Society of Neuro Semantics is known worldwide for its credibility and capacity to provide PREMIER NLP Training that transforms lives.
How can the certificate benefit you Daywise, the numbers indicate daywise agendas ? You will learn the best of Human Design Re-engineering tools to
Decode communication strategies used by Mentalists, best Negotiators, Management Gurus, Political leader and others like Bill Gates and Tony Robbins, learn 6 mental windows to resolve any personal or organizational conflicts. 

Decode 13 linguistics magics and acquire the prowess and skills to do precision questioning tools to help clients get clarity and solutions,10-30 minutes tools to eliminate phobias, traumas,fear of public speaking, 5-10 minutes tool for new behavior generator, 10 well formed criteria to achieve any outcome that you want.

Decode the 60 software patterns of the brain of why people behave the way they do, how they buy or are persuaded to an idea, how they build or destroy relationships, how to understand the software to be a better parent, spouse, leader or a service provider.

Decode the secret mechanism that constructs the mind, possess the 7 tools to conversational change stucked mind covertly, learn the process of belief change, become a frame setter that changes the outcome of every conversation you have with your spouse, kids, clients, audience or colleagues.

Decode the strategies of how people run their mind game- bit by bit, how they do excellence, how they get sad, nervous, depressed or even motivated, excited, passionate or make decision for any areas of performance.

Decode your timeline- the very fabric that defines your personality, learn to balance living in the past, present and the future, learn hypnotic language pattern to send someone into quick trance. learn kinesthetic timeline to alter your undesirable past memories.

Decode the patterns of how to float back in time to correct the past so that no traumatic memories ever haunt you again, learn to change your current behaviours that has its roots in the past, learns tools to connect a new desirable behavior with an unconscious part, and also tools to deal with inner conflicts.
On the later part of the 7th Day,we will have an Assessment and Test where you will be assessed on your competencies and knowledge. Most other NLP Certification just dole out certificates but we at ISNS-USA do not do that.We will withhold your certificate if we think you are not yet ready to receive the certificate, but we will allow you to attend our Next Course for Free to attempt again. Certificates are earned at the International Society of Neuro Semantics. This is what makes us different than other NLP Institutes.
These are secondary benefits and features of the certification:
1. Lifetime Meta NLP Practitioner's License from ISNS -one of the top 3 Premier NLP Body in the world. Be recognized as a best trained Practitioner.

2.  Coaching Essential clearance from Meta Coach Foundation & ISNS and can directly attend the 2nd Level course. (International Coaching Federation's-CCEU Level Course)

3. A Participant's manual of about 200 pages designed and written by Michael Hall and worth around $69.99 with 100 plus patterns and techniques.

4. Lunch, Mini Breakfast, and evening tea  and snacks included.

5. Umbrella of credibility under ISNS and access to 3000 pages of Neuro Semantics articles and pages of materials from NS website, the only NLP Society that provides rich materials for free.

6. Post training support through e group membership at Neurons and becoming a part of ISNS chapter India.

7. Get to be trained and coached by Romeo Haokip himself, who is one of the Top Neuro NLP expert in India. Get 2 Coaching sessions worth Rs.30,000 FREE if you are the lucky first 2 to book.

8. Get lifetime phone support and lifetime email support from the Trainer.

9. Get the Pre-requisite preparation ebook and videos around 10Gbs worth Rs.11470 of Meta NLP materials as part of your fee package.

The certification fee is included in the fee. Certificate is not charged separately.

Get to re-attend the course for FREE as an Assist Team Leader for enhancing your skill or incase you do not get clear the certification.

30% discount on your Master Certification.
NS-NLP LICENSED TRAINER: ROMEO HAOKIP
"Romeo is a highly conscientious trainer who cares deeply for his audience. His commitment to refining the basics as well as ongoing development make him an excellent trainer". Dr Alan Fayter-New Zealand, Dr.Clinical Hypnosis, IANLP Trainer.
Romeo is one of the only 2 Licensed Trainer in NLP-Neuro Semantics in India from the International Society of Neuro Semantics-USA, who was personally trained at Hongkong by Dr. Michael Hall-Phd, Founder of Neuro Semantics-one of the most respected and recognized Trainer in the whole field of NLP & Cognitive Behavioral Psychology and Colin Cox from New Zealand, one of the finest NLP Master Trainer in the world.
Romeo Haokip certifies NLP Practitioners, Master Practitioners and  NLP Coaches under the auspices of the International Society of Neuro Semantics. Certification runs from 3 days to 14 days. His certification programs outside India cost around US$3000-4500 per participants. His network with highly quality Trainers and Meta coaches spreads across 40 countries. 
His Coaching and Training Model Origins:
Romeo's expertise lies in the domain of peak performance and the psychology of Self Actualization based on Neuro Semantics Principles. His Coaching and Training models come from the field of the Cognitive Behavioral sciences, from Developmental Psychology, the Neuro-sciences, General Semantics, Neuro-Linguistic Programming (NLP), cognitive linguistics, cybernetics, and system dynamics. He has trained on more than 40 Cognitive Behavioural modules on Personal Mastery, Leadership, Communication, Sales, OD and other softskill topics to more than 40 corporate Clients.
Experience and Industry Sectors:
In his 16 years of experience, he has trained thousands of employees across various industries, of diverse age groups; coached Senior Executives, been an Advisor to many NGOs and taught and lectured in many prestigious MBA schools. He has experience in various industry sectors such as FMCG, Retails, Hospitality, IT/ITEs, BPO, Call Centres, Consulting & Training, Financial, Campus Teaching, NGOs, Coaching, F&B, HRD, Energy, FMCG, SCM, Financial Services, Telecom, Manufacturing, E-Commerce & Retail etc.
Certifications and Licenses 
ü Certified Licensed Trainer of ISNS-USA.
ü Licensed Administrator of MBTI STEP I & STEP II Expanded Interpretive Report
ü Certified Master Practitioner in NLP -ISNS-USA.
ü Certified Meta Coach-II ISNS – ISNS-USA.
ü Certified in "Accessing Personal Genius" and Coaching Genius Instructor-ISNS-USA.
ü Certified in Time Line Therapy, Conversational Reframing, Figuring Out People, Trance, Modeling-ISNS.
ü Certified Voice and Accent Coach, Customer Service, Spoken English & Culture Sensitization.
Contact us at ceo@leapsmanagement.com or call +91-9986149749. 
The gestalt of all Change Management, Performance secrets, Self-Leadership, Emotional Intelligence is the Neuro Semantics-NLP conducted under the auspices of the International Society of Neuro Semantics-USA based on the Human Potential Movement started by Abraham Maslow and the need of all human being for Self Actualization.
Fee is inclusive of the Manual which is $69.99, Lifetime Certificate Fee, E-book and 7 days Meta NLP video worth Rs.11470, Lunch, Teas and Snacks for 7 days. 
Full Fee is Rs.65,000 . However,early bird discount till 31st March is 42,000. From 1st April -30th April, the fee would be Rs.47,000; the penalty for being undecided and joining at the last minute is you end up paying the full fee of Rs.65,000 from 1st May onward. If you're company sponsored there is 10% extra charge for the TDS cut. (Those who wish to negotiate even lower than this, please attend other NLP institutes where you can pay Rs.65000-69000 for a mediocre course, this is not any NLP certification, this is Advance NLP)
For Outstationed candidates, there are accommodations available from Rs.1500 and above per night.
NLP Practitioners and Master Practitioners from other NLP Bodies can attend the program  at just Rs.42,000.
Venue: Bangalore. Date: 15th – 21st May,2016. (9a.m-6pm)
Venue: Delhi. Date: 12th – 18th June,2016. (9a.m-6pm)
Pre-requisite: 40-60 hours of prerequisite reading. Reading "The User's Manual for the Brain" by Michael Hall or the ebook which will be provided to you after your registration. Book early to prepare yourself.
 For those opting to join the first 3 days , you will be awarded The Coaching Essentials Certificate from ISNS-USA, approved by MCF as Module 1 of the Meta Coaching System Training.
 Fee for Coaching Essentials is Rs.27,000 + ST early bird till 31st March,2016 and post that the fee will be Rs.30,000 + ST. 
Contact us at ceo@leapsmanagement.com or call +91-9986149749.
TESTIMONIALS of HR Head, L&D, OD Heads and People with Psychological and Certified Behaviour Analyst are saying

:

 (You can click on the visual to view the video)
 "Thank you Romeo for providing this awesome, awesome 8 days training. To say that it was a learning experience would be an understatement. This program has the potential to change the way you think, improve your personal life, your relationship, careers avenues, people management, team management. No matter whether you're in a Senior Management, Middle Management or any level this course will help you fit in and perform in your organization better and I highly recommend this course to everyone". Parvathi', an Ex HR Center Manager, MBA-IIM-Bangalore.
"When I thought of coming for this program there was actually lot of reservations in my mind because I have heard about NLP from different various aspects. And this program has given that leverage point. It has given me higher purpose in life for the very first time. Romeo comes up with immense value proposition in the entire frame of experience and knowledge. I wish all those who wish to take a meaningful decision in life and go for excellence, this is a great way to start. .Great learning for more than a lifetime and an awesome Trainer….Just Fantastic! I truly believe now that Neuro-Semantics is way to go"
. 
 Sukanta Das Head of Learning & Capability Development Vodafone Group, a Certified Behviour Analyst and ICF Leadership Coach .
This program has immensely helped me changed entire perspectives of my life. I think it's kind of a rebirth for me. I would like to thank Romeo for being very supportive and bringing the best out of me.
Resham Nawaz- Head of Learning & Development at Odisha Television Ltd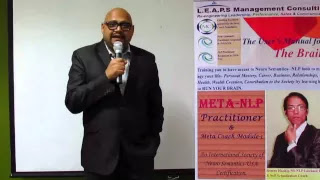 In this 6-7 days I felt that the bridging of the "knowing-doing gap was really possible. I believe it was very scientific and I could experience the power of all the techniques. And the fantastic conceptual command that Romeo displayed and demonstrated and it help us achieve in similar ways, I think it was really powerful. This is the program I will recommend to every professional and every person who wants to change and take charge of their lives. 
Yogesh Bari-Head of People Development,French MNC
What people for Psychological backgrounds are saying:
 I've heard about NLP alot and wanted to see what it is. It was absolutely amazing. It had a profound impact on me and I believe everybody in the field of Psychology must do it. It's beautiful, the practices and everything, it's just amazing. It was more amazing because we had a Coach like Romeo who made best effort to help us in every way. I really felt it was a breakthrough session especially for me. Sakshi Kaul Professional Psychologist
I would recommend everybody to attend this because it's an eye opener and people get to know themselves.We're so closed; we don't understand what we are but this program helps you to first understand what you are, your limitations, and how much you can achieve by opening up yourself. It's amazing, with lots of breakthroughs from my birthtime to my future.
Sowmya Swaminathan- Learning Consultant of 18 years, Certified Behavior Analyst